Reading time: 5 minutes
On November 27, 2021, Instagram released one of the most coveted features for all accounts, the link in stories. Before, the feature was only available for profiles with more than 10,000 followers or verified accounts, so many users used wrong strategies such as buying followers to reach this number.
However, with this new update everything has changed. Even the famous phrase "drags up…" may have its days numbered, as now the link is included by an Instagram sticker.
Most importantly, your dealership or dealership can use this feature at any time, but it is essential to have a strategy to achieve good results. Therefore, we created this content to show you step by step how to place the link in the stories and what are the best practices.
So even if your business's Instagram already had this feature available, the content below will show you how to use it correctly and strategically. Keep reading.
How to link to stories
Let's start with the easy part which is a step by step how to link Instagram stories. See below:
Create your story, either in photo, video or uploading some material that is recorded on the cell phone
Click on the stickers icon
Select the "Link" option and add the URL you want to share with your followers
Finally, position the linked sticker in the story so that it is visible and balances with the content. Then just publish.
Ps: it is worth doing a test by clicking on the link to verify the operation.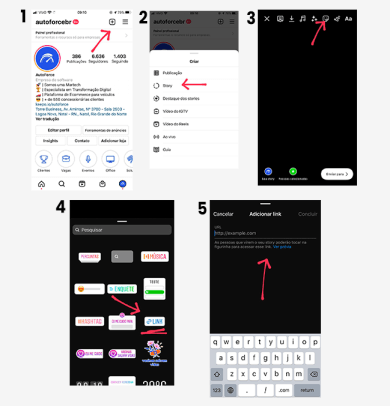 Best practices for receiving more clicks
To understand the best practices, it is necessary to accept that the competition for the attention of the follower is growing, so it's no use creating a story with a link thinking that this will solve all the problems. After all, if you don't create relevant content or have never worked on your business stories, it's likely that no one will click on the link.
Therefore, the first step is to start producing content for the social network and engaging the follower on your profile. If you don't know what to produce, in this blogpost we talk about 11 types of content for dealerships and resellers.
In addition, it is necessary to encourage engagement with CTA (calls to action) or using resources that Instagram itself offers. The best way to do this in stories is through polls and a question box.
That said, here's the tip that can significantly increase link clicks.
build narratives
Building a narrative into stories is a great way to get followers to click more or take some action. The most common way is to create a sequence of stories talking about a certain subject and in the end make a CTA for a landing page.
For example, you want to generate more interest in an SUV vehicle from your dealership. So, instead of publishing a single story with a link, you'll create a following using features like polls to engage followers and, in the end, put a link that takes you to the vehicle's internal page in your digital showroom.
Doing this isn't a "7-headed bixo", on AutoForce's Instagram we use this strategy frequently, see an example for inspiration: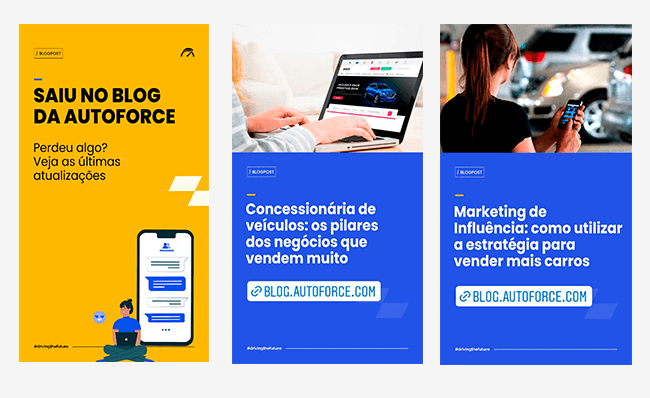 Generating more business with the link in stories
Everyone knows that Instagram is an excellent social network to generate more results for the business, but it was a problem to generate leads in markets like the automotive sector. Followers had to go to the Bio link to be directed to the digital showroom.
However, that changed with the addition of the link in the stories. Now you can send followers directly to the digital showroom or an offer landing page. In this way, you can create campaigns and actions within Instagram that generate more business opportunities for your sales team. In short, it means to say that the feature reduced friction in the buying journey of an interested customer who came through Instagram.
But, you need to have a strategy and understand the right moments to use, otherwise your Instagram will become an ad platform like OLX.
Other forms of use
Another way to use the feature is to combine with the sales team to publish in your personal or professional Instagram accounts, after all, many sellers already use the social network to look for new opportunities. Then show how it works and explain to the team the possibilities of generating more results (for the company and for the sellers themselves).
But, in addition to generating new business, you can use the link in the stories to educate your followers with content. Share materials from the dealership, automaker's blog or from websites specializing in vehicle reviews.
Conclusion
Using the link in Instagram stories is very good to increase the results of the Marketing and Sales team. And now, more than ever, it is important to work this social network with valuable content and strategies. In this way, all the material created will be more effective, especially in campaigns such as Black Friday, Christmas, Father's Day, etc.
I hope you enjoyed the tip and understand the power the feature brings to Instagram strategies. But if you have questions about what content to create, below you will find an e-book with several ideas.