Reading time: 6 minutes
Running a business and making decisions without knowing exactly how or where to go is nearly impossible, which is why data is one of any organization's greatest assets. They help you from planning to carrying out the most operational tasks. Via Mondo is an example in this regard, as in recent years it has been structuring data intelligence based on numbers extracted from digital.
As a result, the group started to make more informed decisions and understood the main bottlenecks of online strategies. Thus, it became easier to answer questions such as: in which channels to invest? where to disclose? how to improve the sales process? and etc.
Getting data from the internet is not complicated and every business that works online channels can access the information. Nonetheless, more important than owning it is knowing how to use them for the benefit of the company.. Read on and see the insights from the Via Mondo success story.
Grupo Via Mondo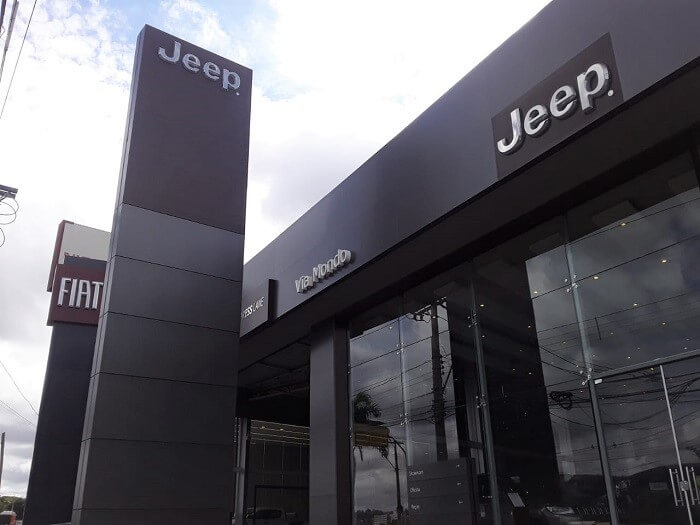 Via Mondo is among the largest automobile groups in Minas Gerais and has been a reference in the market for over 25 years. The company has dealerships for the Fiat, Jeep, Renault and Nissan brands, with a total of 18 points of sale in 6 cities in Minas Gerais. In addition, it stands out in the sale of new and used vehicles of all brands, the Group has an insurance broker, financing, consortium, rental company and also operates with after-sales services.
In 2015, investments in digital marketing began, but there was no specialized management and the results were not expressive. But, it served as the first step towards the digital transformation of the business. In the following years, the concessionaire started to invest more and more in online strategies and structured a team to serve customers who arrived from digital.
During this same period, Via Mondo had a major game changer by becoming a partner of AutoForce. They hired the Autodrome, which gave autonomy to the team in the management of digital showrooms, besides being presented the lead enchantment methodology. Adalberto Matheus, CRM leader at Via Mondo, spoke a little about this moment:
"They introduced the website platform (Autodromo), but it had the extra thing: the lead enchantment methodology. We were struggling to implement the online sales method and when we learned that AutoForce had these two forces, we called them to talk and sign an agreement."

Adalberto Matheus – CRM Leader at Via Mondo
data usage
We know that one of the strengths of digital marketing compared to traditional is the possibility of measurement. As a result, we have access to a lot of information and data that can be confusing at first. Therefore, it is necessary to map and define the main indicators that will be monitored.
In a digital showroom, for example, you have access to various data such as bounce rate, number of visitors, visitors per channel, sessions, conversion rate and so on. However, only a few should have your attention at all times, the others, despite their importance, serve to understand problems and specific solutions.
A good example of Via Mondo is the breakdown of the entire sales funnel, so it is simple to find what is working and what is not. "Through the funnel mapping we know exactly where we need to improve, said Adalberto Matheus."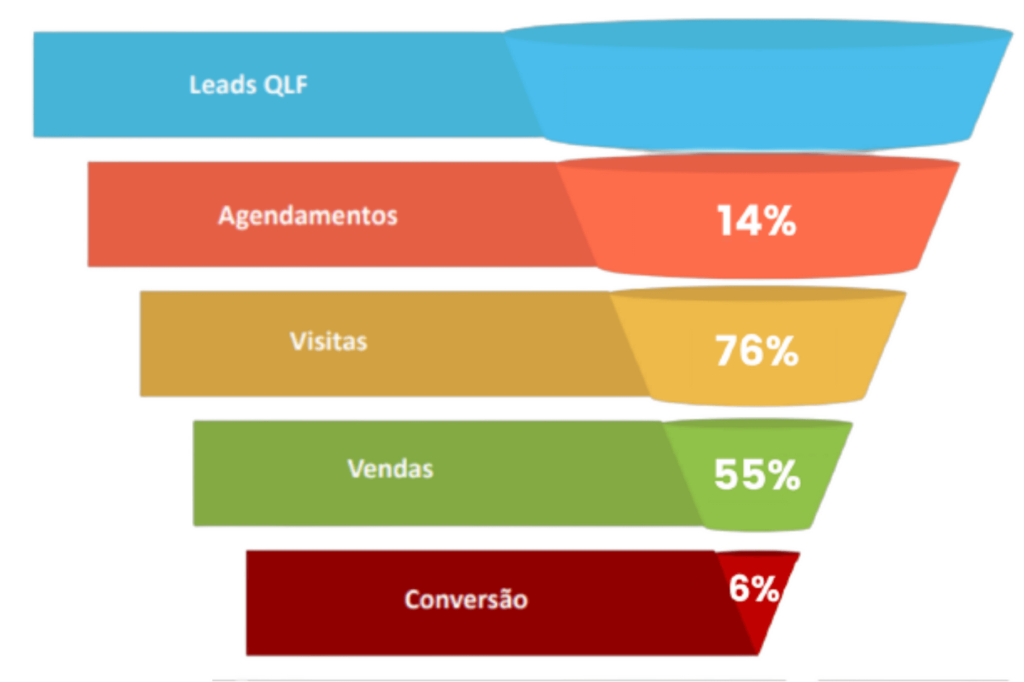 In addition to all the funnel mapping by brands and general, Via Mondo also monitors information on lead response time, number of sales per channel and prepares monthly action plans to attack the main points of improvement.
How Via Mondo trains salespeople
From the moment Via Mondo joined as an AutoForce partner, it began the process of forming a digital specialist sales team. The Group structured a lead center at the head office that receives all contacts generated online.
The sales team is divided between lead charmers, who work at the center and are responsible for the first contact and qualification, and consultants who have the objective of closing deals. Therefore, for each brand there are two figures in the commercial team.
At Via Mondo, lead charmers spend an average of 6 to 9 months before reaching the salesperson stage.
"The professionals we are placing at this center have great potential to become great salespeople. They do the same training as every salesperson. They spend 30 days studying the product, sales techniques, persuasion and negotiation. And when that person is mature enough, he will assume a sales position, which is the best position today within a dealership."

Adalberto Matheus – CRM Leader
In addition, he warned of a point that can generate conflict, as sellers can be intimidated by the figure of the charmer. Thus, it is necessary to present the project to everyone involved and make clear the roles of each person in the business.
The digital showroom is the best channel
Increasing the number of customer acquisition channels is an excellent strategy for generating more leads and, as a result, growing sales. Via Mondo, for example, uses several fronts such as marketplaces, social networks, Google Meu Negócios and so on.
Nonetheless, the channel that brings the most results for the dealership is the digital showroom, followed by the assembler's website as shown in the chart below: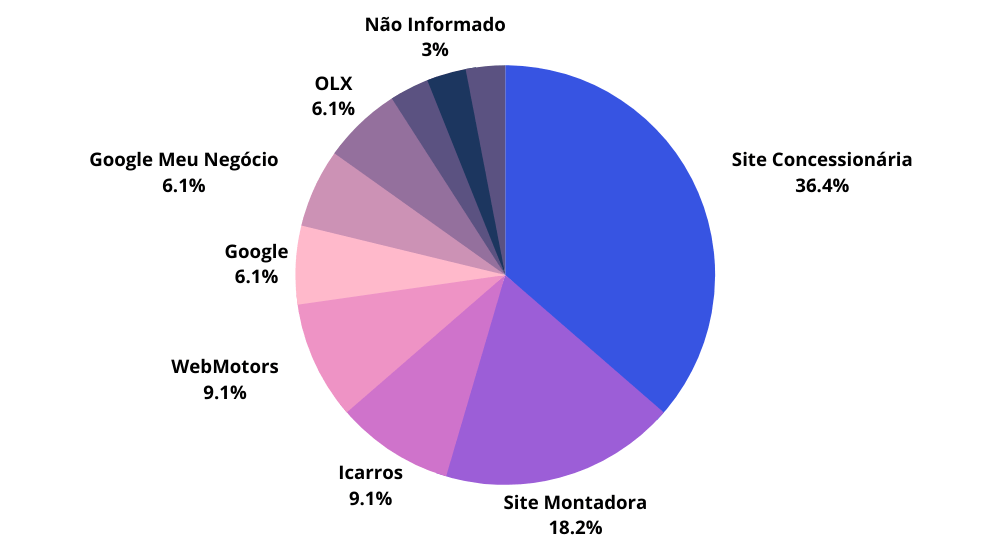 "Having a well-structured website, well ranked on Google, with cool SEO and being able to customize for retail, which is our case, makes a total difference. Today we realize that the leads that come from our website are the best, the hottest and the most qualified."

Adalberto Matheus – CRM Leader
next challenges
Despite the major problems that the automotive market has suffered in recent times, Via Mondo has challenging expansion targets. In early 2022, the Group will open another Jeep unit in a seventh city in Minas Gerais, in addition to plans to grow the lead center and serve all brands.
Via Mondo is also planning to offer 100% digital purchases through ecommerce. "At the beginning of next year, we hope to launch the platform (Ecommerce). That's because we have only one thought, which is to bring more facilities and convenience to customers" said Adalberto.
In short, it means to say that Via Mondo has plans to increasingly offer an onmichannel experience to its customers.
Conclusion
Digital marketing brings several advantages over traditional marketing when we talk about data and indicators, but it is important to have knowledge to use them in the best way. Grupo Via Mondo is a success story when we talk about this subject and, therefore, the results generated are incredible.
Examples like this are for you to study and also apply to your business, whether it is a dealership or a dealership. And if you want to know the CMS platform, Autódromo, which helped Via Mondo with these results, just click on the button below.